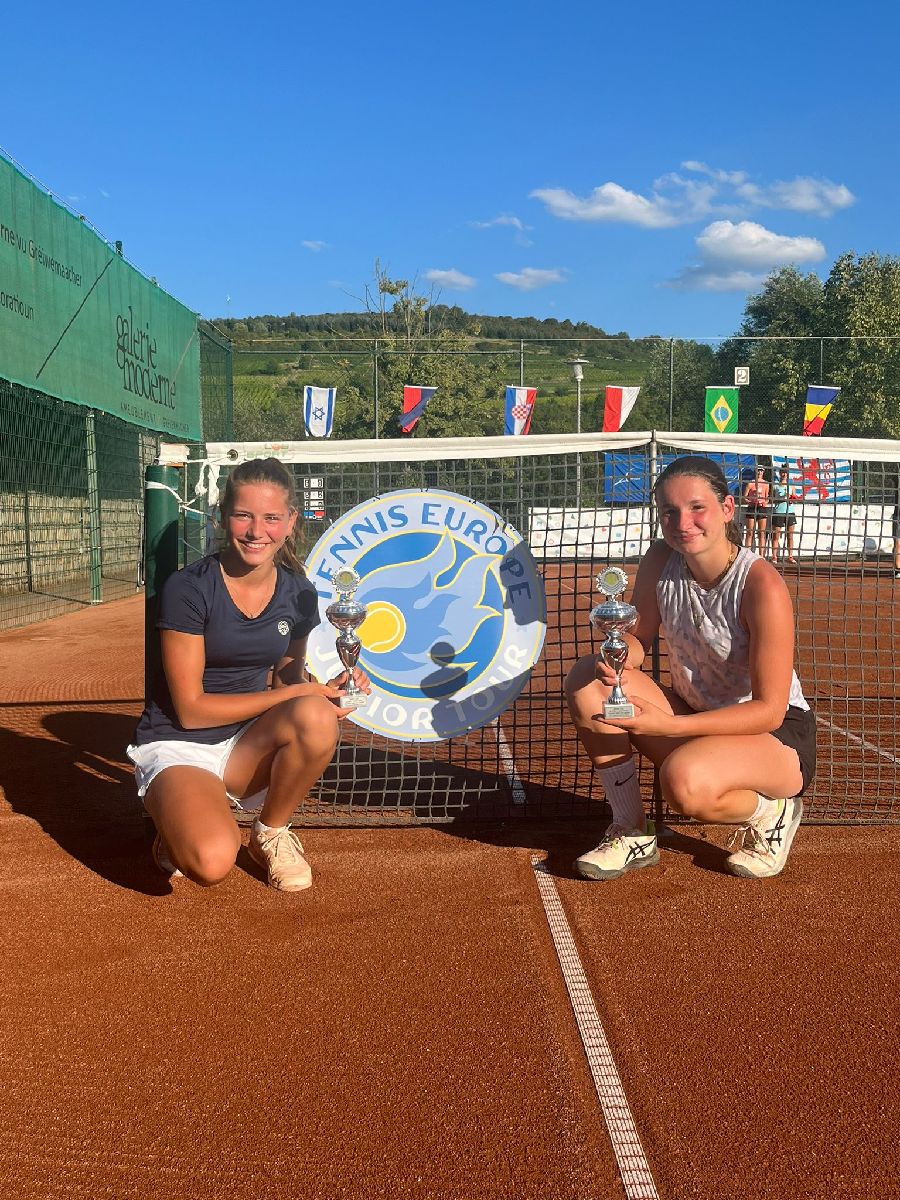 Winner Girls U16 Double
Tennis Europe >> Mosel Cup by IMMO Capital Group << 2023 (2)
Liebe Tennisfreunde, (english version below)
in der zweiten Woche unserer internationalen Turnierserie konnte der Tennis Club Grevenmacher sich in die Final- bzw. Siegerlisten eintragen.
In der zweiten Woche starteten mit Sarah F. (GER), Polina H. (UKR) und Onalee W. (GER/LUX) gleich drei Spielerinnen des TC Grevenmacher. 
Sarah verlor als eine der jüngsten Teilnehmerinnen in der ersten Runde des Hauptfeldes, konnte sich aber in der Bonus-Runde bis ins Finale durchspielen. Herzlichen Glückwunsch zu deinem zweiten Platz.
Onalee schaffte es im Einzel bis ins Halbfinale und konnte die Doppelkonkurrenz mit ihrer Partnerin Ida Wobker (GER) für sich entscheiden. Herzlichen Glückwunsch zum Gewinn im Doppel des TE U16 Doppels beim Mosel Cup by IMMO Capital Group 2023.
Wir hoffen allen Tennisfans ein paar spannende Spiele auf der schönsten Tennisanlage Luxemburgs geboten zu haben und wir denken bereits an eine weitere Edition in 2024. 
Großen Dank noch einmal an alle Volunteers, die während der zwei Wochen geholfen haben, sowohl für das leibliche Wohl, die Plätze immer in einem Guten Zustand zu halten und für eine Atmospäre gesorgt haben, die bei keinen anderen Turnier in Europa zu finden ist. (Feedback vieler Spieler und Eltern)
Danke für euren Support
Ronny
Turnier Direktor und Vorstandsmitglied des TCG
Dear tennis friends,
in the second week of our international tournament series, the Tennis Club Grevenmacher was able to enter the final or winner lists.
With Sarah F. (GER), Polina H. (UKR) and Onalee W. (GER/LUX) three players of TC Grevenmacher started in the second week. 
Sarah, as one of the youngest participants, lost in the first round of the main draw, but managed to play her way through to the final in the bonus round. Congratulations on your second place.
Onalee made it to the semi-finals in the singles and won the doubles competition with her partner Ida Wobker (GER). Congratulations on winning the TE U16 doubles at the Mosel Cup by IMMO Capital Group 2023.
We hope to have offered all tennis fans some exciting matches on the most beautiful tennis court in Luxembourg and we are already thinking about another edition in 2024. 
A big thank you once again to all the volunteers who helped during the two weeks, both for the physical well-being, to keep the courts always in a good condition and to create an atmosphere that cannot be found at any other tournament in Europe. (Feedback from many players and parents)
Thank you for your support
Ronny
Tournament Director and Board Member of the TCG